2013 16.2hh Bay Anglo European Studbook Licenced Stallion
16.2hh 9 year old bay Stallion with superb jumping breed lines, excellent conformation, temperament and movement. Judges' comments during grading "A very supple horse with excellent use of his back, shoulders and hind leg with a temperament, movement and suitable quality to sire showjumpers, dressage and eventers."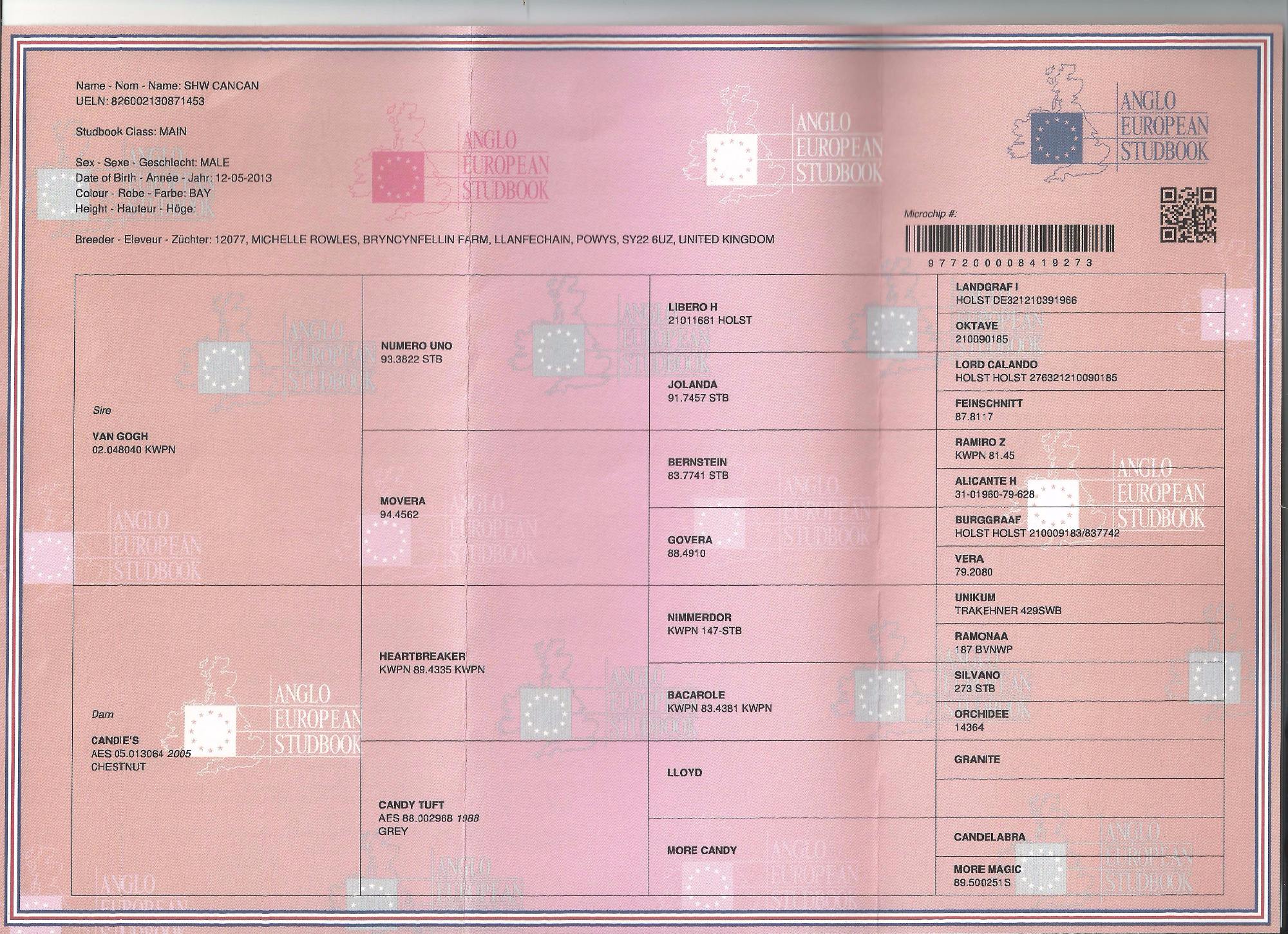 HIS SIRE
VAN GOGH: CHAMPION OF THE KWPN STALLION PERFORMANCE TEST 2005
Van Gogh was the undisputed KWPN performance test champion of 2005. This son of Numero Uno was not only rewarded for his great jumping skills but also his fantastic movement. Take-off and technique were rewarded with 8.5, scope with 9.0 and his incredible canter with 9.5. The stallion performance test report states that Van Gogh shows strong movement in walk, trot and canter, that he jumps with a good take-off and develops lots of scope. He is currently competing very successfully at international Grand Prix level under Marco Kutscher and numerous successes include the 2015 Los Angeles Longines Masters.
In 2013 Van Gogh was ranked number 2 KWPN stallion.
The 2015 show season was a tremendous success for Van Gogh and Marco Kutscher, winning the GCT GP in Valkenswaard, the CSI5* LA Masters GP and the CSI5* Hong Kong GP 2016. These great performances have resulted in this combination being preliminary nominated for the 2016 Olympics in RIO.
Van Gogh is by the superb stallion Numero Uno. Numero Uno proved himself as a competitor, and now continues to prove himself as a formidable sire of jumpers. He is the 2015 WBFSH #30 stallion.
Van Gogh's damline originates in the mare Miesje. In addition to his successful full sisters, this breeding family produced several international show jumping and dressage horses. Some examples are the spectacular jumper Der Senaat III (Abdel Said) and the impressive KWPN stallion Charmeur (Emmelie Scholtens).
Van Gogh's offspring are known by their appealing types, good movement, rideabilty and excellent jumping skills. The 3 year old mare Folinda won the free jumping competition in Saasveld (The Netherlands) with the judges giving her 50 points, including a 9 for technique. While the 4 year old mare Ereprijs scored the highest points at the EPTM mare performance test at Sleen (Netherlands) and got a 8.5 for scope and rideability. Her full sister Duizendschoon became mare champion at the mare test in Overijssel and reached the fifth place during the national mare test when she was 3 years old.
During the World Championships for Young Horses in Lanaken (Belgium) the Van Gogh mare Calimera, and his rider Marcel Willems, won the silver medal in the final for 6-year-old showjumping horses.
HIS DAM
Candie's is by the great HeartbreakerAt the age of nine, HEARTBREAKER started his first Grand Prix, placing third at Hamburg, Geesteren, and Falsterbro. The following year, he finished fourth in the prestigious Grand Prix of Aachen, and won the "Championat" of Dortmund. In Belgium and Holland, HEARTBREAKER has been leading the jumping index for the past three years. His oldest offspring, performed at the very top when they were only eight years old (e.g. Quartz Music, Quasimodo, Quintin, Saffier, Quasimodo van de Molendreef, and Zip and Zip). HEARTBREAKER has more than ten approved sons, including the superb jumpers Orlando, Padinus, and Regilio, and is atop the jumping index with a score of 168 points.
Her dam line Candy Tuft was out of More Candy who was the dam of Bit More Candy who represented Great Britian in 2000 Olympic Games in Australia with Carl Edwards



Cancan's foals are tall, elegant and have inherited his great conformation, looks and personality. His foals all have exceeded our expectations. His fertility is excellent using A.I at home or chilled next day delivery to the mainland.
2017, Dark dun gelding by CanCan x Bunty Girl (unbelievable Darco) grown to a good 16.2hh, lovely limbs and conformation, very willing, trainable temperament, lovely mover and springy, scopey jump. Lightly competed proving straight in the ring. Accieved Gold in British Breeding Futurity as a three year old.
2017 Chestnut gelding by CanCan x Rodgebrook Goldern Girl (Billy Congo) grown to a good size, is nice and compact in type with good conformation. A really trainable horse that just wants to please. Super paces and jump.
2019 dark dun filly by CanCan x Bunty girl (unbelievable Darco) Full sister to Charleston, dainty and very elegant with beautiful head and limbs. Very similar in temperament and ability. Accieved Gold in the British Breeding Futurity as a yearling.
2021 bright bay filly by CanCan x Bunty Girl ( Unbelievable Darco ) A stunning foal with lovely markings.